Estrangement from an adult child can be life-changing for parents. Banned grandparents are unable to see their grandchildren. Mom and Dad are left wondering how the relationship went so wrong. When an adult child marries or gains a serious partner, some parents are ill-equipped to deal with the new routine and rules an adult child and new partner-spouse will bring. This article discusses strategies to bridge the gap between you and your adult child. How to Deal With An Estranged Adult Child (When Their Partner is Toxic)
Adult children estrange for various reasons, including toxic parents, differing values and lifestyles, mental illness, and substance abuse. Dr. Joshua Coleman explains in his book Rules of Estrangement that adult children are cut off when their partner is threatened by their close parental relationship. Coleman adds that spouses can be troubled and insecure. Troubled spouses can set the stage for the adult child to cut off. Heartbroken estranged parents report stories of losing their adult child and contact with grandchildren.
Parents may reach out to their adult children and ask questions, volunteer their opinions, and criticize their judgment. These kids would instead disconnect from their parents to avoid conflict and the flooding of uncomfortable feelings. A complicated, tension-filled event may occur, resulting in an eroded relationship.
Coleman's strategies consider options parents can take that will help position the parent as less of a threat to the adult child's need for less conflict. Parents naturally want to improve the relationship and are well-meaning. Some parents jump to strategies that result in more stress and distance. Consider the following strategy to move towards reconciliation.
Essential Strategies To Improve Your Relationship With Your Adult Child
Start with Yourself
Examine if you have blind spots. Blind spots are areas where your view of your behaviors or personality is obstructed. We move around the obstruction by questioning ourselves, our motives, and our actions objectively.
Questions to Consider
Have I encouraged the conflict, division, or tensions?
Have I pressured or questioned my adult child, stirring up a conflict that may have resulted in them being upset or overwhelmed?
Have I excluded my adult child's spouse?
We may think we've been extraordinary parents. We've gone above and beyond in supporting and helping. You believe you did the best you could. Perhaps you were a very close family until your adult child's relationship with this partner. Sometimes, however, our actions may have inadvertently pushed our adult children into the arms of their toxic partners.
For example, you may have questioned your child about how close his wife is to her parents. Maybe you commented on your kid's partner's uncomfortable behaviors. Perhaps you mention they seem to spend much time with her parents. Your adult child tells his wife, and she confirms that you, the parent, are intrusive and controlling and have no business asking how much time is spent with her family. This common scenario is troubling for all parties.
How can you tell if you have had something to do with your adult child's estrangement?
Examine the behaviors your adult child has mentioned to you and compare them with other friends and coworkers.
Consider if others have mentioned that your behaviors are problematic.
You've made well-received attempts in the past and learned some communication skills, and your adult child and spouse were receptive to you.
Be sure to include a pleasant greeting to your adult child and their partner when you send a card. Your supportive and polite comment will alert your adult child that you accept their spouse or partner.
Remember, your adult child is the audience. Your adult child may be checking to see if your behaviors have changed. As adults' your kid would expect and desire respect from you. It is their life and choice. They do not appreciate parents who are a source of conflict, questioning, criticism, or tension.
It is not a good idea to try and create a relationship outside their relationship with the spouse or partner unless your adult child wants this.
Even if you do not receive a reply, you should send a card regularly that is supportive. The card might say: "
"Dear Son or Daughter:
I am thinking of you and (their partner's name.) I hope you are doing well. I am always here for you.
Love, Mom or Dad"
Do not complain, criticize, or make negative comments about the spouse. It will likely get back to them and make matters worse. It does not feel supportive of their adult decision if you comment on their choices. Even if your adult child tells you his troubles about their partner, do not offer advice or criticism.
Respect the limits your adult child and his partner place on how much time you spend with your grandchildren. They are their kids. They have a right to decide.
Write an open amends letter even if you feel you have done nothing wrong.
"Dear Adult Child and Partner:
I am deeply sorry if there is anything that I ever did that hurt you or offended you. I want you to know that I apologize.
Love, Mom or Dad."
(Do not mention how upset you are or how much you miss them.)
This letter opens the door to repairing the relationship. Your adult child may be offended over something you did or didn't do or something you said or didn't say. An open amends letter allows your adult child to see you take responsibility for an offense. We may have been well-meaning in our questions and concerns.
If you sincerely understand that you have some blind spots and may have things you could have perceived as harmful to them, taking responsibility takes a pathway toward reconciliation.
If your adult child tells you, you haven't apologized enough, apologies again. If you can, you want to be unified and not leave any stone unturned.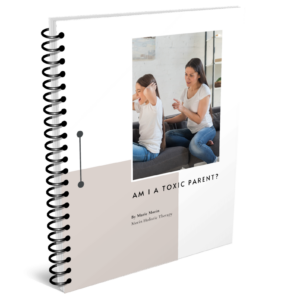 Fill out the form below to let us know where to send your quiz:
The complicated, complex topic of estrangement hurts parents and adult children. Rarely is the fault of just one person. Toxic people are plentiful. We may have contributed without meaning to the relationship breakdown.
Dealing with adult children who have cut-offs is the most challenging endeavor a parent can imagine. Their partner's behavior can be overly dramatic, controlling, selfish, highly critical, and filled with angry fits and outbursts. The spouse or partner may be distraught and suffer from unpredictable emotions and behaviors. Your adult child may be subject to their high expectations and demands. Imagine the upheaval in their home navigating the high dissatisfaction, contempt, and possibly an air of superiority. If your adult child is dealing with a few toxic behaviors, they have their hands full.
Parents are deeply hurt when their kids abandon the relationship for their spouse. Your desire for reconciliation will benefit from a careful strategy. Dr. Karl Pillemer, author of Fault Lines Fractured Families and How to Mend Them, states that successful reconcilers were able to relinquish their need to have their version of the estrangement story acknowledged. In other words,  reconcilers were willing to let go of hashing things out. Also, Pillemer adds that reconcilers were ready to develop a new relationship. Perhaps a new relationship with your adult child will not be what you hoped, but you will gain some contact.
Estrangement from an adult child can be devastating, causing grief and loss. Parents wrack their heads, trying to figure out what happened. Married or When an adult child marries or gains a serious partner, some parents are ill-equipped to deal with the new routine and rules an adult child and new partner-spouse will bring. This article discusses strategies to bridge the gap between you and your adult child. How to Deal With An Estranged Adult Child (When Their Partner is Toxic.)
Resources
Agllias, Kylie. Family Estrangement A Matter Of Perspective. New York, Routledge, 2017.
Coleman, Joshua. Rules of Estrangement. New York, Harmony Books, 2020.
Morin, Marie. Feeling Heartbroken and Alone? How to Pick Up the Pieces When You are Estranged. eBook. 2022.
Morin, M.L. [Morin Holistic Therapy]. (2022, January 4 ). What is Family Estrangement? You Are Not Alone.
Morin, M.L. [Morin Holistic Therapy]. (2021, September 8). Diaphragmatic Breathing: 5-Minute Deep Breathing Exercise for Beginners.
Morin, Marie. How to Deal with Estranged Family During the Holidays (2021, November 21) Sixty and Me. https://sixtyandme.com/estranged-family-holidays/
Pillemer, Karl. Fault Lines Fractured Families and How to Mend Them. New York Penguin Random House, 2020.
More on the Blog